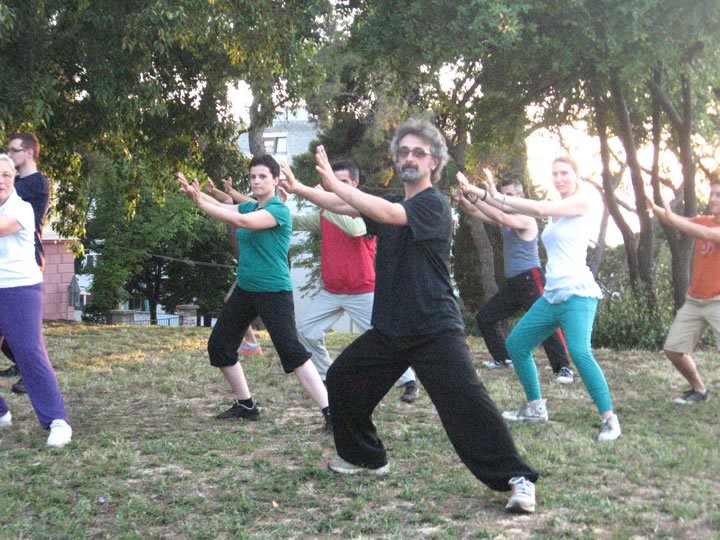 Center of Oriental Arts Yuan Tong is an association whose aim is to promote and spread mostly Chinese culture and also traditional arts from other euroasian cultures. The emphasis is on skills related to care about the health and development of consciousness such as soft martial arts (Taiji Quan) and Qi Gong. In addition to these skills, our aim is to present and closer to other forms of Chinese culture such as traditional medicine, feng shui, calligraphy and Chinese language.
Center holds Taiji courses, styles Chen, Yang and Wu,  Qi Gong classes, then courses and lectures on Chinese language, history and philosophy. Also, several times a year we organise seminars guided by international masters.
The Center Yuan Tong is located in the center of city associations, DC "Rojc", Gaj 3 / III, Pula, Istria, Croatia. Contact
Center Yuan Tong originated from Tai Chi Club "Pula", the first such club in Istria (1999) and leads the tradition of Taiji Quan and Qi Gong in Istria and beyond.
Today consists of several sections:
Tai Chi Club Pula
Wushu team Pula
Qi Gong and Health Center
Wen – culture, history and Chinese language
Yoga Studio
Shamanic dances  (TranceDance)
TAI JI QUAN
Tai Ji Quan (Tai Chi Chuan) is centuries old Chinese martial art that is today popular as a method of motion applied to achieve good health and the self-defense, as a moving meditation and spiritual practice.
The name Tai Ji Quan can be translated as the culmination of fighting skills and the culmination of movement skills. It is a skill that in the performance of movement and martial arts technique follows the principles of Tai Ji (Superior Perfection) and by improving balance of Yin and Yang duality, again leads to a state of perfect harmony.
In Center Yuan Tong we teach the three Taiji styles: Chen, Yang and Woo, but mostly Chen from vilage of Chenjiagou, the birthplace of Taiji Quan
CHENJIAGOU TAIJI QUAN
Chen style is original style from which the all other styles have evolved. It has fully retained its martial character. The characteristic of style are the spiral movements and changes of soft and slow movements with quick and explosive (Fa Jing) .Other characteristic is the wealth of methods and forms with bare hands, arms and exercises in pairs.
It consists of three methods: Lao Jia (old), Xin Jia (new) and Xiao Jia (small).
Both methods, and Lao Jia and Xin Jia, consist of two forms Yi lu (first form) and Er lu (second form) also known as Pao Chui. All three methods have a forms with a weapon, namely: sword, saber, two swords, spear, halabarda and range.
One of the typical methods of Taiji Quan are exercises in pairs Tui shou or pushing palms. The Chen style has five methods of these exercises. And at the end, the San Shou or free fighting.
Our school follows the method and program of Master Zhu Tiancai, XIX. generation master from Chenjiagou, birthplace of Taiji Quan. Master Zhu Tiancai is one of four Jin Gangs, the greatest masters of 19th generation, the elected keepers of tradition Chenjiagou Taiji Quan.
The program:
1st course:
Taiji qigong
Chan Si Gong – exercises winding silk
Lao jia Form 4 – four basic steps
2nd course:
3rd advanced courses;
Laojia Yi lu 72 – the first traditional long form
Tui shou- pushing palms
Taiji Jian – form with sword
Laojia Er lu – Paochui- the second traditional form
Taiji Dao – form with sword
Xinjia Yi lu
Xin Jia Er Lu
Form fa jing 42
Other forms with weapons
David Petrović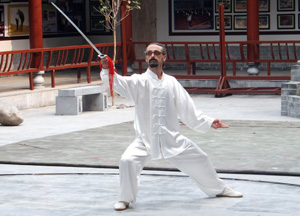 The president and chief instructor of the Center Yuan Tong. Mastered in August 2011 in Chen Jiagou in China, the birthplace of Taiji Quan, with his teacher Master Zhu Tiancai, one of the four greatest living masters of Taiji Quan and one of the four Jinggans, keeper of traditions, from the village of Chen Jiagou. Previously completed a three-year school for Taiji Quan instructors  and two-year Qi Gong school at Dao Yuan Academy of Genoa. David Petrovic was the Croatian champion in Taiji Quan year 2013 in the forms of bare hands and weapons forms and winner of international gold medals in Taiji Quan forms. He holds a black belt and is a certified teacher in FIWUK-in (Federazione Italiana Wushu Kung Fu), the Reiki master and exelent therapist specialized in many types of massage, especially oriental, Tui Na and Shiatsu treatments. In his youth an active musician, David has also turned his love for music into research of sound as a therapeutic medium.